Liz Lesperance Fine Art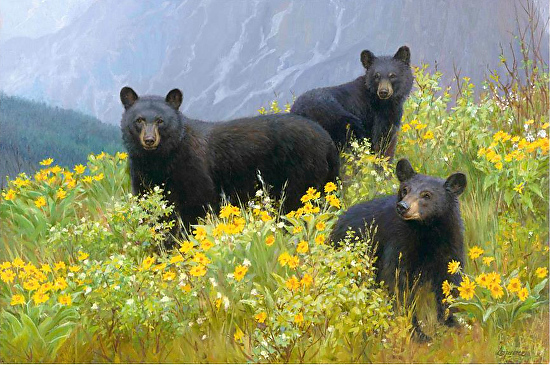 The inspiration for "Springtime in the Mountains" came from a trip to Waterton Lakes Park in Alberta. This is the park that is directly north of Glacier National Park in Montana. I was photographing the lovely slope full of Balsam Root flowers when a black bear meandered past me about 100 feet away. She took no notice of me as I'm sure she is used to humans in this popular part of the park. I liked the contast of black bear against the yellow flowers so I place this sow with her two yearlings in the same place that I saw the original bear. I felt so lucky to have had this breathtaking experience!
This painting is "24" x 36" and is framed in a custom made gold leaf frame with beautiful carving. Available at Padereski Fine Art in Beaver Creek, Colorado.